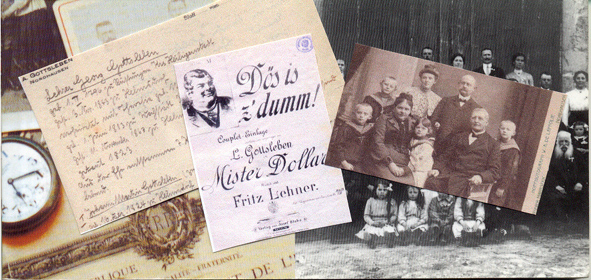 Bernard John Gottsleben
1922-2007
Superintendent of Schools in Montrose and Lake Preston

Bernard John Gottsleben


Bernard John "BJ" Gottsleben was born on January 27, 1922 in Clark, South Dakota the son of Joseph and Elizabeth (May) Gottsleben. He died on Monday, December 3, 2007, at Avera McKennan Hospital in Sioux Falls, SD at the age of 85.
BJ Gottsleben received his education in Clark, SD and graduated from Clark High School in 1940. He attended S.D. State University before serving in the U.S. Army from 1942 until 1945. After serving in the military, he continued his education at SDSU and graduated in 1947. He married Helen L. Hess June 24, 1946, in Clark. He was a teacher and coach at Winfred, SD. He was employed as superintendent of schools in Montrose, SD and superintendent of schools in Lake Preston, SD. In 1984, he and his wife moved to Brookings, SD. Bernard Gottsleben was a member of the St. Thomas More Catholic Parish, the Knights of Columbus, the Golden K Kiwanis, the American Legion and served on the Board of Directors of Boys State Counselor for 40 years. He enjoyed all sports and was an outstanding athlete, especially in track. He also enjoyed golfing and spending time with his family and friends. BJ is survived by his wife, Helen of Brookings; his children, Mary Barse of Norman, Okla., Sheila Hazelroth of Maitland, Fla., and David Gottsleben of Vermillion; and six grandchildren. He was preceded in death by his parents, brother (Joe) and sister (Helen).
Funeral services will be Thursday at 10:30 a.m. in St. Thomas More Catholic Parish at Brookings with the Rev. Michael Wensing officiating. Burial will be in St. Thomas More Catholic Cemetery at Brookings.
Published: Watertown Public Opinion, Watertown, SD. Wednesday, December 5, 2007.

Sheila, Helen, Mary and
David Gottsleben
2014

Helen Louise Gottsleben
1923-2015

Helen Louise
Hess Gottsleben
Helen Louise Hess Gottsleben, 92, of Brookings, passed away Monday, July 27, 2015 at Stoneybrook Suites, in Brookings. Helen Louise was born on March 31, 1923 in Clark County, South Dakota the daughter of Peter and Laura (Bickett) Hess.

Helen attended grade school at Hess School and attended Junior High at Mobridge, SD. She graduated from Clark High School in 1940. She continued her education at the South Dakota Beauty Academy in Sioux Falls and graduated in 1941. She was employed at Roberts Beauty Shop in Arlington, SD until 1943 when she was appointed by J. Edgar Hoover to work in the Personnel Department of the FBI, in Washington D.C. for three years. She was united in marriage to Bernard J. "BJ" Gottsleben on June 24, 1946 in Clark, SD. They lived in the communities of Doland, Winfred, Montrose, Lake Preston and Brookings, SD. Helen was employed by the Lake Preston School District as school secretary from 1975 until 1984, when she and BJ retired and moved to Brookings.

She was an active volunteer in church and community organizations in the communities where they lived. She was a member of the St. Thomas More Catholic Church where she was a lector and Eucharistic Minister. Helen served as the President of the South Dakota American Legion Auxiliary from 1973 until 1974 and was active on the national level for the next ten years. She received appointments in the various programs sponsored by that organization which included National Vice President, Northwestern Division and National Field Service Director. She was involved in the American Legion Auxiliary Girls State of South Dakota for 33 years including 17 years as Director and Chairperson. She was also a Girls Nation Counselor in Washington, DC in 1975, 1976 and 1982. She enjoyed singing, spectator sports, crafts, contemporary writing, art, government and current events. She especially enjoyed attending her children's and grandchildren's activities in school and in the community.

Helen is survived by her two daughters, Mary Barse and husband Steve, of Norman, OK and Sheila Hazelroth and husband John, of Maitland, FL; one son, David Gottsleben and wife Helen, of Yankton, SD; five grandchildren - Matthew Barse, Laura Barse Anderson, Kendra Gottsleben, Matthew Hazelroth and Dasha Hazelroth, two step-grandchildren, two great grandchildren, two step-great grandchildren and many nieces and nephews. She was preceded in death by her parents; husband; two brothers, Francis and Albert Hess and two sisters, Genevieve Hynes and Kathryn Heim. - The family requests that in lieu of flowers, a donation be made to the South Dakota Art Museum, 936 Medary Ave., Brookings, SD 57007.
Published: Yankton Press & Dakotan, July 31, 2015 (Internet, August 2015).

Garretson - War stories, Charles Woodard would tell you, aren't always some haunting recollection of battlefield carnage or heroics. Some begin with an oddly intoxicating whiff of perfume. Some are kept with the crystal glasses in the hutch. While most of those war stories have roots in places called Anzio and Iwo Jima, Korea, Vietnam and Iraq, many are told by people who never carried a gun and never wore a uniform.

They are veterans of war, too, says Woodard, an English professor at South Dakota State University who edited a new book that's just out called "On The Homefront: South Dakota Stories." For they are the spouses, children, parents and loved ones touched and often changed by war and what it brought into their lives.

"War, because it is an especially intense human experience, has almost limitless effects and consequences," Woodard said. "I especially want people to understand that there are more veterans than there are people who have worn uniforms, and more casualties of war than there are names on memorial walls." They are people who understand what it means to honor and remember a father or a brother or an uncle today on the 66th anniversary of the bombing of Pearl Harbor. They are the folks that Al McIntosh wrote about in his weekly column for the Rock County Star Herald in Luverne, Minn., during World War II - people Ken Burns recently brought back to life in his documentary, "The War."

The story of war and its effect on the lives of people is especially significant in Helen Gottsleben's Brookings home today. She buried her husband, B.J. Gottsleben, on Thursday. At age 85, the veteran and longtime educator died Monday from the ravages of emphysema and pneumonia. In the haze of grief, Helen Gottsleben still remembers a spring day in 1942 when she sat in the recreation center at Fort Mead, Md., holding the hand of her fiance in the last minutes before he departed for Europe and World War II. She had taken a job in the personnel section of the Federal Bureau of Investigation and had ridden the bus from Washington, D.C., to see him off. It was a Sunday, and he had given her an engagement ring just a few months earlier. "We didn't say a lot," Helen Gottsleben recalled. "He was not a talker; he was a good thinker. We just held hands and sat there."

She remembers that he seemed terribly calm, not like someone ready to sail off to war. He must be worried, she thought. He had to be scared. Finally, as she boarded the bus to leave, he quietly told her four words to which she would cling for the next two years. "I will be back." And she believed him "because I had faith that he would be taken care of."

B.J. Gottsleben did return, on Christmas Day 1945. They were married six months later. Though he planned to become an educator before he volunteered for military duty, the course of their 61 years together was influenced by the war, Helen Gottsleben said.

Products of small-town Clark, S.D., Helen Gottsleben planned to become a beautician after high school. But emboldened by B.J.'s enlistment, she took a job with the FBI instead and journeyed outside the safe cocoon that was South Dakota. After he came back, they both became active in the American Legion. She took leadership roles in the auxiliary, including the American Legion's Girls State program. If he was haunted by his war experiences, he never talked about it, and she didn't ask, Helen Gottsleben said. They looked forward, never back. Still, their children - Mary Barse, Sheila Hazelroth and David Gottsleben - understood that their father's military duty had an effect on all of them. "He never talked about war in glorious terms," Hazelroth said. "He lived through it and did what he had to do. It was a thing to be endured, not a thing to brag about."

But it also engendered in his children a sense of patriotism, David Gottsleben said. "I think we grew up in a family where that commitment was easily understood," he said. "They didn't have to speak to make it known how they felt. For them, it was honoring the flag. You just understood." (…)

It is a story - like thousands of others - worth preserving, Woodard said. "They contribute to the most important kind of history," he said. "The history of the human spirit."
Published: ArgusLeader.com, information ... anytime, anywhere, Sioux Falls, S. D., Dezember 2007.